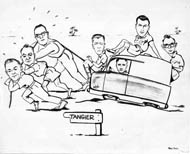 Home
Introduction
Latest Updates & News
948 Fate
Colour Schemes
Stories
Triumph Herald Cine Film
Archive Gallery
Triumph Herald Launch
Historic Heralds
Triumph Herald Racing Game
Links

Featured Sections
Triumph Herald Database
A list of known cars existing and details of cars long gone more…
Turn Left to Tangiers
The expedition through Africa featuring Triumph Herald prototypes more…
Triumph Herald Rally Cars
Take a look at our archive of period photographs and details including Monte Carlo, Rac and Tulip rallies More…

Email Us:
info@triumph-herald.com
We are especially looking for any information on existing 948cc Triumph Herald saloons, coupes and convertibles (in any condition, full or part cars), ex owners of 948cc Triumph Heralds long gone and any ex Standard Triumph employees or their families. Help us build the information and share it with everyone!
Turn Left for Tangiers
In 1958, two prototype Triumph Heralds embarked on an epic journey, covering over 9,600 miles through some of the roughest terrain in Africa. Heavily laden with supplies, fuel and water the cars had very little ground clearance yet, were able to get through. Over fifty years later and a collection of photographs from the expedition has been uncovered with many never seen since the trip.